Break Free from Plastic Campus Pledge
Our college has taken the "Break Free from Plastic Pledge" on 12 June, 2019. Principal Dr. Gireesh Kumar G S signed the pledge in 11 June 2019, making HBC the first college in Kottayam district to commit to the Break Free from Plastic Pledge.
Establishing a purchasing policy which, by 2020, eliminates campus and campus food vendor procurement of all non-essential, non-compostable, single-use disposable plastics. This includes restrictions on:
Single-use plastic utensils for household use
Single-use plastic straws
Single-use plastic food serviceware (cups, plates, bowls, trays, sauce dishes, lids, etc.)
Single-use plastic clamshells (two halves one piece plastic containers) & disposable to-go and take out plastic containers
All polystyrene food service products
Single-use plastic-lined cups and bowls (coffee cups, soup bowls, snack boats, etc.)
Single-use plastic-wrapped condiments (a spice, sauce, or preparation that is added to food), sauces, and seasonings (butter, jelly, peanut butter, creamers, sugars, salt, pepper, etc.)
Plastic shopping bags
Due to the present lack of viable alternatives, and other barriers to removal, the following single-use plastic items are presently excluded from the above restrictions. However, HBC commits to keeping an eye towards plastic-free alternatives in future procurement decisions and policies regarding these items:

Pre-packaged plastic-wrapped retail items [chip bags (for instance Lays, Bingo etc.), granola bar wrappers, candy bar wrappers, water/soda bottles, toiletries, etc.)

Plastic trash and recycling bags

Plastic wrap for use during food prep (this does not refer to individually wrapped food items, as noted above)

Plastic and polystyrene packaging from incoming orders

Single-use plastics used in academic settings (e.g. lab equipment)

Single-use plastics necessary for health or safety purposes (e.g. medical plastics)

Investment in education, resources, and infrastructure to assist in the Plastic-Free Campus transition. This includes:

Education on plastics and HBC's commitment to plastic-free alternatives for all incoming and current students, staff, faculty.

Expanding resources and infrastructure for compost collection, institutional reuse, and general waste reduction practices. Possible examples include: steel water bottle use inside campus, bulk laundry detergent in ladies' hostel, bulk and package free snack options through college co-operative society, installing vending machine for menstrual product options and its disposal mechanisms inside our campus and ladies' hostel.

Adjusting procurement guidelines to encourage investment in durable and useful products across campus departments.

Collection of all plastic waste materials from Melukavumattom Ward in Melukavu Grama Panchayat so also all the households of HBC community and shred the plastics collected in our Plastic Shredding Unit and give the proceeds to the poor people in this Ward. For this, Meluakvumattom Ward has been adopted for plastic waste collection in association with Melukavu Grama Panchayat.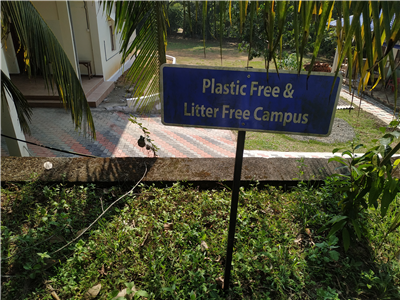 Plastic free Campus