An Electoral Literacy Club is a platform to engage college students through interesting activities and hands-on experience to sensitise with their electoral rights. The Club familiarises them with the electoral process. ELC is also present in schools and rural communities.
Through ELC, Election Commission of India, aims at strengthening the culture of electoral participation among young and future voters.
The primary objective of the club is to sensitize student community about the democratic programmes to create awareness. We conduct mock polling activity to give the experience based learning of the democratic setup. We also conduct cartoon drawing, debates, mock parliaments, elocution, essay writing and other programmes which create an awareness regarding electoral procedures.
Vision
Providing a clear cut vison about electoral participation and a sense of democratic attribute among young generaton.
Mission
To provide education about registration and legal electoral process.
To familiarize the targeted populations about machine voting like EVM and VVPAT.
To help the targeted audience understand the value of their vote.
To ensure the citizens that they should exercise their adult suffrage right with confidence in an ethical manner
To develop a sense among the citzens that 'Every vote counts' and 'No Voter to be Left Behind'.
Coordinators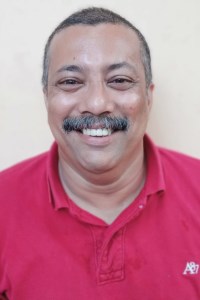 Sri. Korah Jacob
Associate Professor
Nodal Officer
Smt. Sabitha Krishnan
Assistant Professor on Contract
Assistant Co-ordinator
Electoral Literacy Club Activities
2017-2020
3/11/2017
The Electoral Literacy Club conducted Mock Elections to make students aware of democratic rights which include casting votes in elections. This was designed to mimic real elections to teach students and new student votes about the whole election process. The Electoral Literacy Club committee for the year 2018-2019 decided to conduct a seminar on "Voter Awareness" to motivate students for enhancing electoral participation of the voters in India. The Electoral Literacy Club committee for the year 2019-2020 conducted a programme on the subject "Electoral Literacy in India&rdqu