The Memorandum of understanding between Henry Baker College, Melukavu and Albert Schweitzer School, Germany, for mutual partnership and cooperation in the field of education, was signed on 6th September 2013. The period of validity of the MOU has been for 5 years of the first phase and will be extended further based on the evaluation of its performance in the previous years. The prime objective of the partnership is to promote intercultural and global learning. It is signed by the Dr. Abraham Daniel Principal of the College, Prof. Joseph Thomas, Staff Chaplin of the college, Elizabeth Hillebrand, Headmistress Albert Schweitzer School and Rev. Dr. Jochen Waldorf, School Pastor.
Vision:
To Promote intercultural and global learning.
To Encourage and enable students and staff to get to know and understand how people in our partner country live socially, culturally and religiously.
To think and act in a global context.
To handle cultural diffrences.
Aims:
To provide opportunities for the students and staff for learning through exchange visits.
To provide international learning opportunity through cultural programmes, homestay with students and staff and participatory learning experiences during visits.
To provide opportunities for longer stays of ASS-students at HBC after their graduation and stays of HBC students at ASS.
To encourage cooperation in mutual projects
To encourage establishing personal contacts between students and staff via digital media.
To learn about education system, teaching and learning practice of both countries.
The Partnership between HBC and ASS cooperates with existing church partnership between the Protestant deaneries in Oberhessen and the Diocese of East Kerala within the Church of South India. MOU signed for a period of 5 Years as first phase and will be extended further based on evaluation of its performance.
In 2013, a team of eight members, including School Pastor, teachers and students from Albert Schweitzer School visited our college. They attented our classes to learn about the education system as well as teaching and learning methodologies. Along with some teachers and students of our college, they visited some historically important places and tourist destinations in Kerala. A group of ten, including five Students, four teachers and a non-teaching staff visited Albert Schweitzer School and stayed in Germany from 3 Sep. 2014- 19 Sep. 2014. The team members visited Albert Schweitzer School, Churches and many historically important places in Germany.
Reports
Coordinators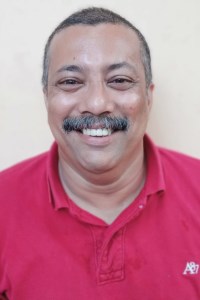 Sri. Korah Jacob
Associate Professor
Co-ordinator